TrueCam Dashcam H5
TrueCam DashCam H5
The dash cam that only you know about
Are you looking for a reliable black box for your car? The TrueCam H5 is the smallest dashcam we've ever produced. Despite its size, it's still packed full of features that will help protect your vehicle both on the road and in the car park. The best thing is it's compact yet it stills records in high-quality Full HD. Details like license plates, pedestrians and drivers' faces will always be recognisable plus, as the camera is barely noticeable, you don't have to worry about leaving it in the vehicle.
Transferring video footage is made easy thanks to Wi-Fi connectivity. This means the TrueCam H5 can connect to the LuckyCam mobile app in an instant and you can begin downloading and adjusting settings immediately. Start using your dashcam today and avoid unnecessary inconvenience on your travels.
"TrueCam H5 is your invisible travel guardian."
Clear footage in Full HD
Despite its small dimensions, the TrueCam H5 still delivers high-quality footage. Its resolution of up to 1080p ensures detailed images of even the smallest of objects. Even if the footage contains faster motion, it still appears smooth thanks to the high frame rate of 30 fps. If set at the lower HD resolution of 720p, the camera can even record up to 60 frames per second.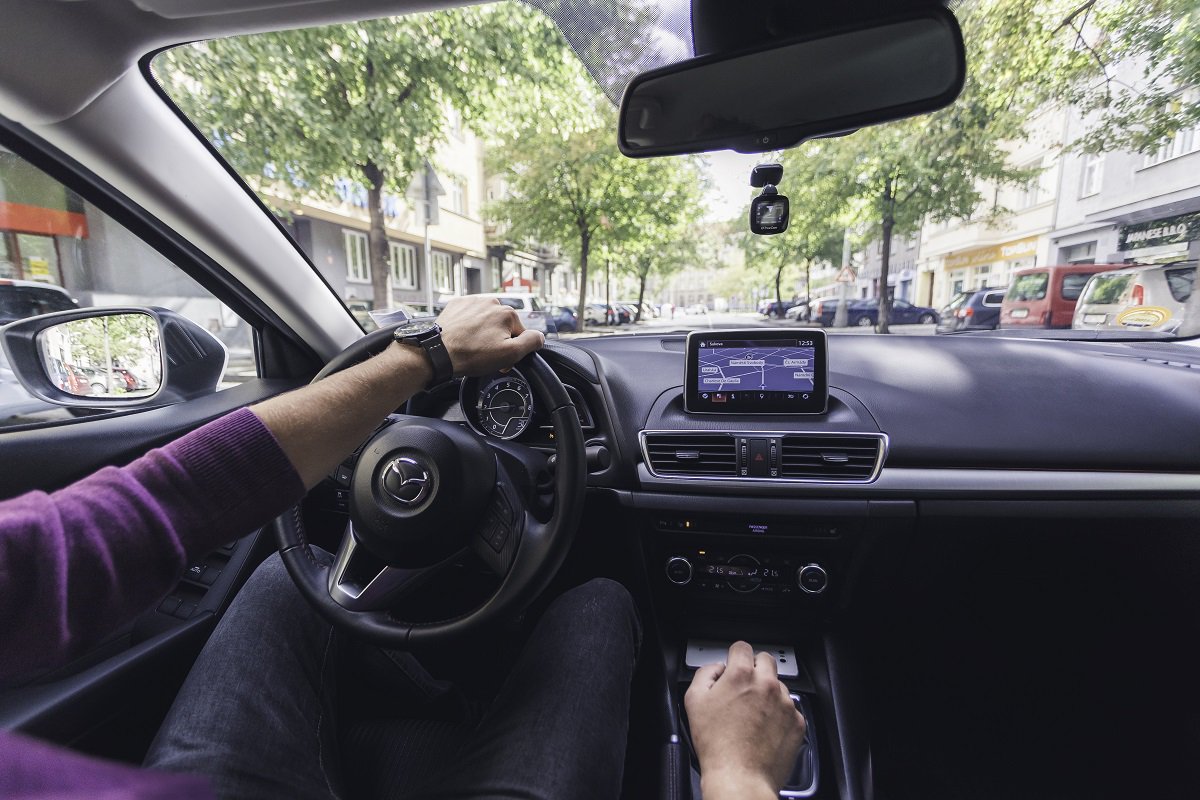 Easy installation
The TrueCam H5 is ready to go in seconds. The unique magnetic holder which attaches to the windscreen ensures straightforward mounting. The camera detaches easily and is small and portable. The charging cable is encased in the holder itself for even greater ease of use. Once activated, the camera begins charging automatically.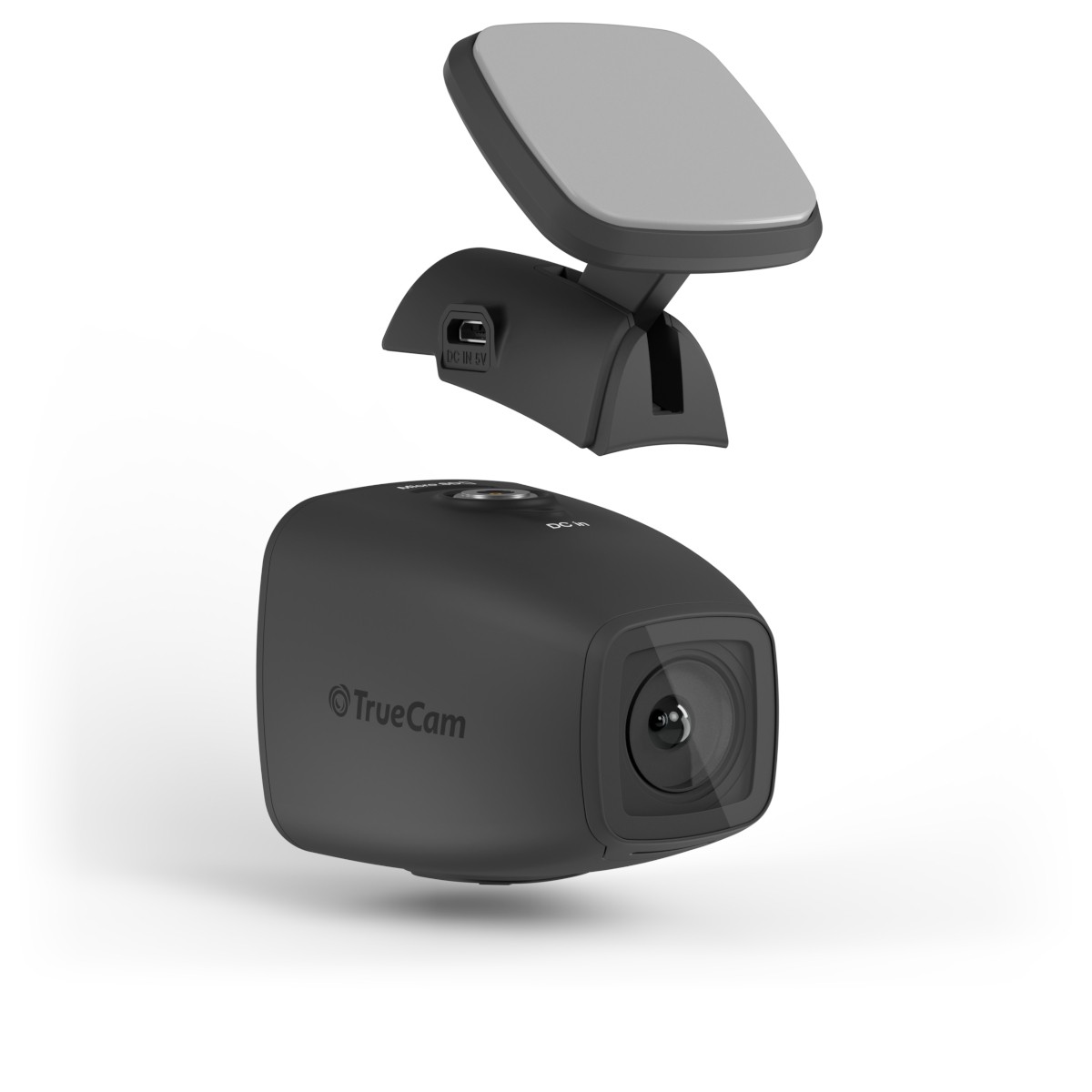 Low-key design
The body of the camera is extremely compact and very difficult to notice due to its matt finish. This comes in handy when leaving the TrueCam H5 in a vehicle parked in a public area. Passers-by can hardly see it plus you it won't distract or impede your vision whilst driving
Additional GPS module (optional)
If you want to enhance your recordings with additional data such as geotagging or vehicle speed, you can purchase a GPS receiver for your camera. Drive speeds can be stamped on the footage so as to avoid any speculation of speeding during an accident or other unpleasant incident. All collected data appears on Google Maps so you can track your vehicle's every move.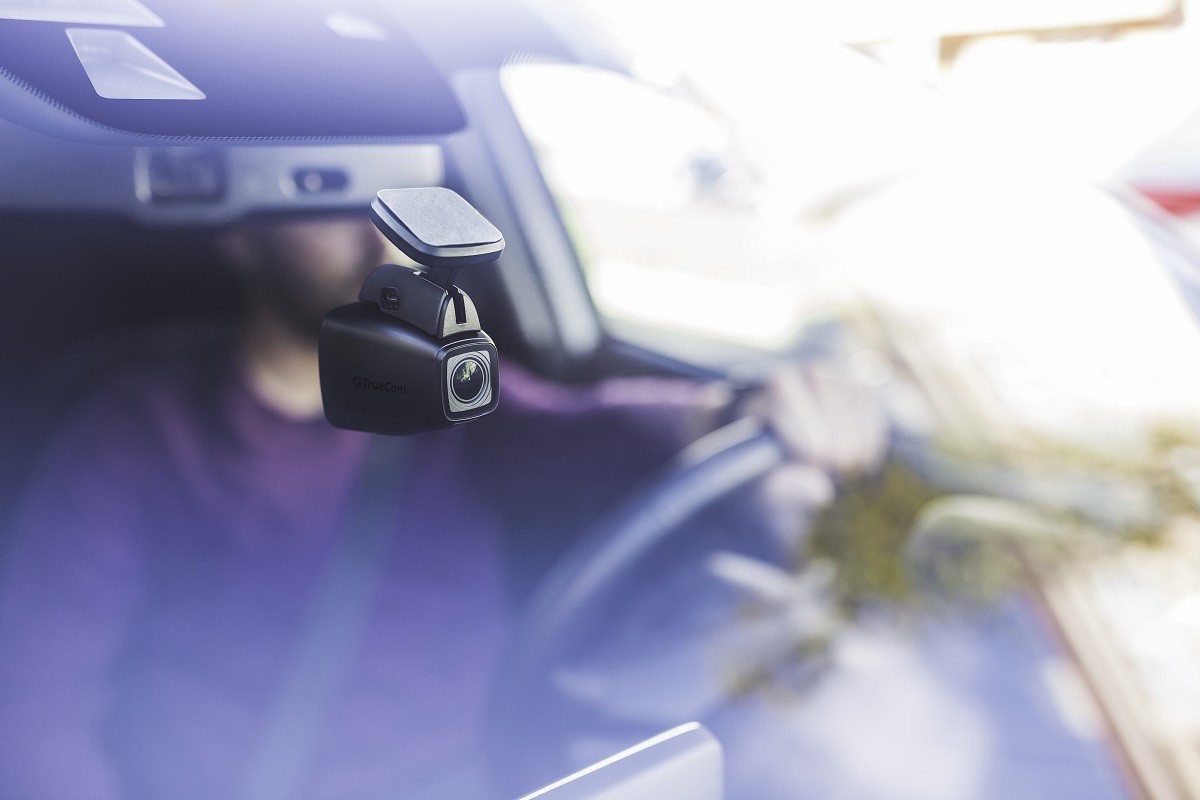 Collision detection
The TrueCam H5 black box with its state-of-the-art G-sensor can detect even the slightest impact. On collision, any footage is automatically locked to prevent it from being lost. You'll have valuable proof of the whole incident to hand.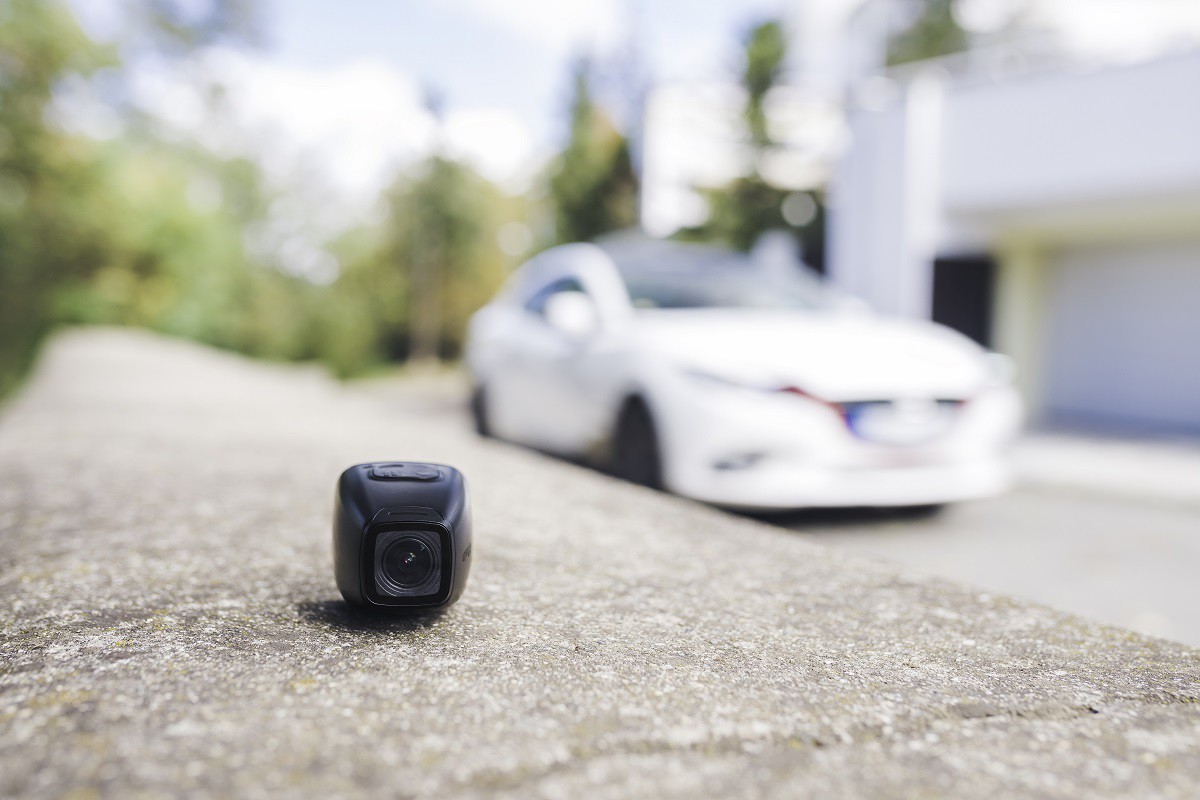 The memory never runs out
Your dashcam can only assist you when it's actually recording. Full HD footage requires a lot of memory space. To counter this, the TrueCam H5 has a loop recording feature which ensures you never run out of space. Older footage which has not been locked is automatically deleted to create memory space.
It watches over your parked car
Incidents don't only occur on the road. When parked, vehicles are prone to vandalism or the actions of other inattentive drivers. In Parking mode, the camera is on standby and begins recording when it detects movement or an impact. Therefore, you can keep track of what happens around your car. On a single charge, the TrueCam H5 can remain in standby mode for up to 24 hours.
Video footage is transferable via Wi-Fi
TrueCam H5 footage can be transferred via the built-in Wi-Fi. Simply pair the camera to your smartphone, and, using the LuckyCam app, you get instant access to your dashcam footage. The app is available for all phones and tablets running Android or iOS, and it enables the camera to be controlled remotely so you can turn it on, stop recording or adjust basic settings.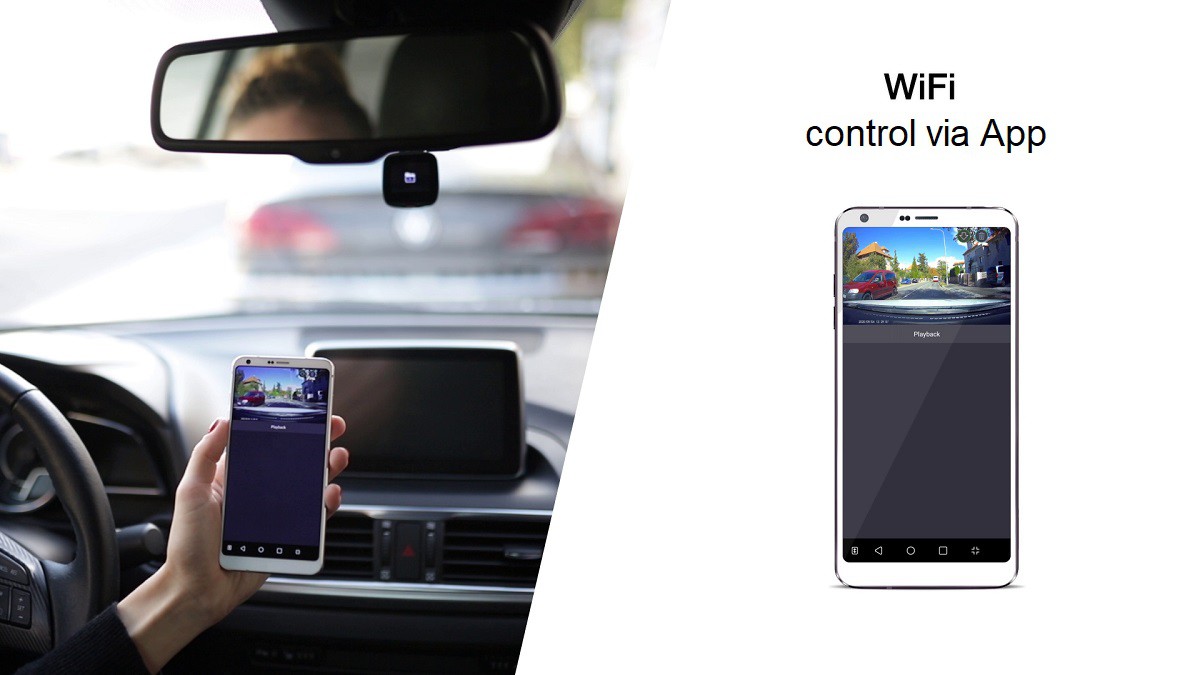 LCD display and multilingual controls
With its clear 1.5" LCD display and controls in several languages, operating the camera is easy. Settings can be altered, footage can be locked manually, and videos can be taken in an instant. The menu is intuitive which means you won't even need to read the manual to get started.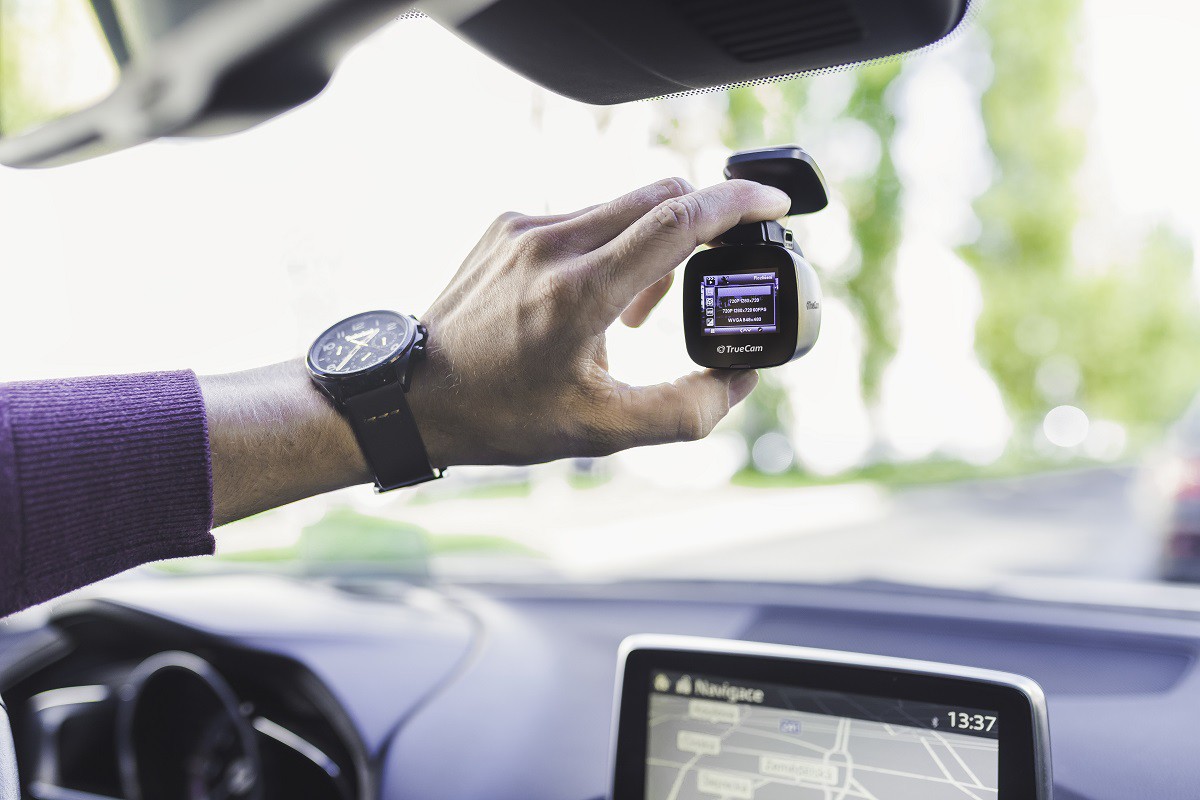 It helps you stay in lane
The TrueCam H5 camera has a LDWS (Lane Departure Warning System) function. This alerts the driver whenever the vehicle begins drifting across lanes. This applies especially to incidents of micro-sleep and other inattentiveness. When leaving the lane, an audio signal sounds to help you avoid any major incident.
WDR function
The camera is equipped with a WDR (Wide Dynamic Range) function that provides better image capturing in conditions where certain areas are brightly or poorly lit creating a contrast between light and shadow. Typical examples are reflections at night or light from oncoming vehicles. You'll be surprised how great the image quality is under these conditions.
Package Contents
Full HD TrueCam H5
3M magnetic holder
2 × spare 3M adhesive pads
5 × 3M charging cable holders
Dual purpose charger
Micro USB cable
MicroSD-USB adapter
Protective packaging
Manual
Quick-start guide
Parameters and Specifications:
LCD

1.5" 480 × 240 pix

Angle of coverage at 1080p

130° (without image deformation)

Menu Languages

Swedish, English, German, French, Polska, Ungerska, Ryska, Kinesiska

Video resolution

1920 × 1080 (Full HD) 30fps
1280 × 720 60fps

Video Format

MOV

Video Codec

H.264

Image resolution

12 Mpix

MicroSD

up to 64GB

Connectivity

USB 2.0, Wi-Fi

Battery

420 mAh

Charger

12V
Length Charging Cable
300 cm

Dimensions

54 x 45 x 45 mm

Weight incl. battery

63 g