Truecam M7 Dual GPS WiFi
Truecam M7 Dual GPS WiFi
Eyes in front and back
The TrueCam M7 GPS Dual magnetic dashcam is our best yet and makes dealing with issues you encounter on the road easier. The front Full HD camera keeps track of what is going on in front of your vehicle, whilst the rear HD camera guards your rear bumper. Thanks to the magnetic holder, snapping the camera in place takes just a second. Plus, with GPS and a speed camera database covering 36 countries, you can easily avoid fines.
Key Functions
Double cameras - double protection
G-sensor - protects even when parked
WDR - wide dynamic range
Speed camera warning
WiFi
GPS
Speedometer
Nightvision
150° wide angle
CPL filter as option
Speed and coordinates directly in video
2" LCD display
Ready before you buckle up
For the TrueCam M5 Wi-Fi, we used a revolutionary magnetic mount for the fastest possible setup, and we've used it with the M7 as well. Expect ease-of-use and maximum protection in the form of a locking mechanism, additional to the magnet, that holds the camera firmly in place on even the most damaged roads. This latest dashcam also comes equipped with a magnetic GPS module and lens surround. This makes it simple to attach a magnetic polarizing CPL filter that removes unwanted reflections on the windscreen..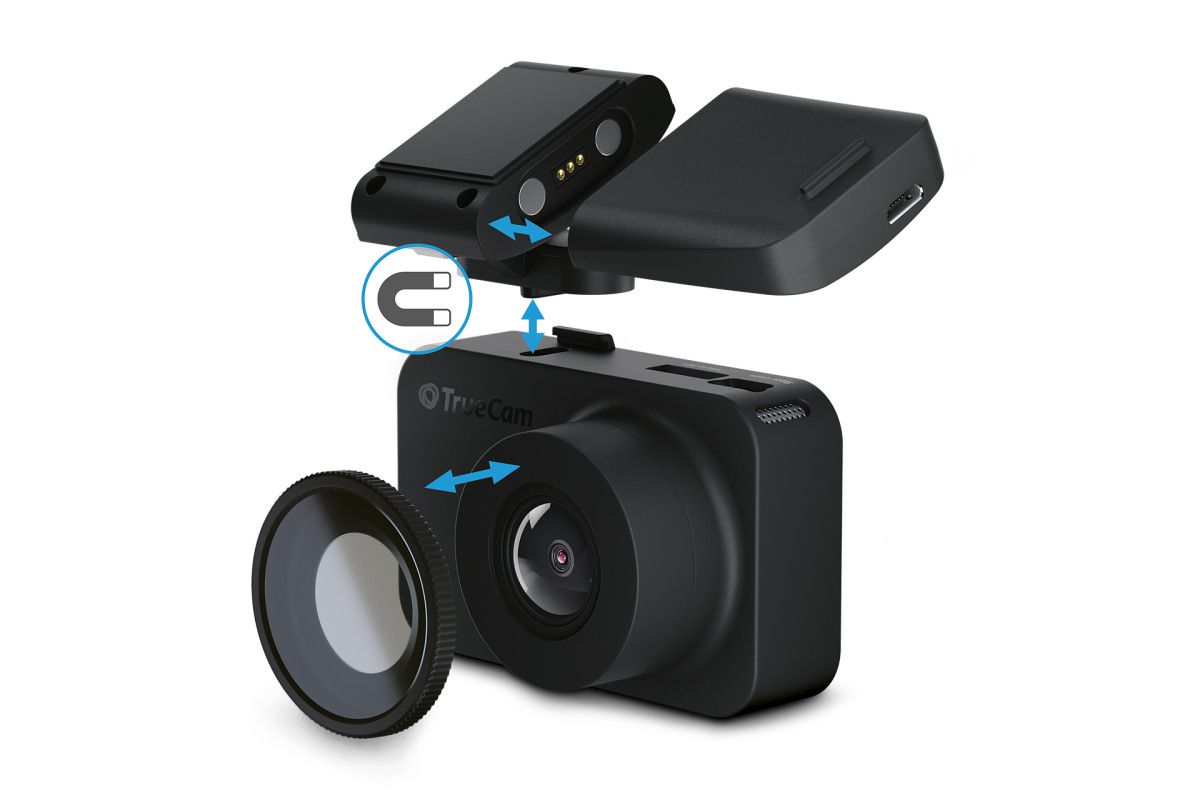 Two cameras = double protection
The TrueCam M7 keep watch over not only the front, but also the back. An adjustable HD rear camera comes included. Thanks to this, you'll be able to document all the events in front and behind your car. It can also be placed on the windscreen and pointed back inside the car. This makes it easy to shoot what's happening in the vehicle - ideal for taxi drivers.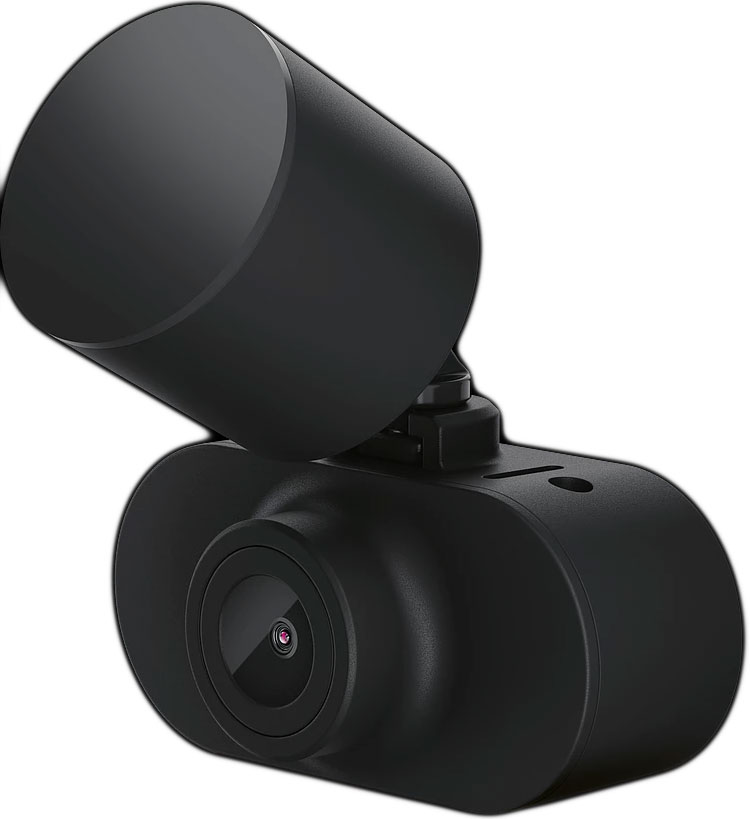 High-quality night shots
Most dashcams can shoot good footage during the day but fail in low-light conditions. The lens and optical sensor of the TrueCam M7 automatically adjust in low-light and darkness to capture clear video that can be used as evidence in the event of an accident. WDR further helps when exiting a tunnel or encountering an oncoming vehicle.
Easy control via WiFi and smartphone
Our car camera has built-in WiFi, making transferring recordings and adjusting settings a breeze. You can do everything wirelessly with a few clicks from your smartphone using our application.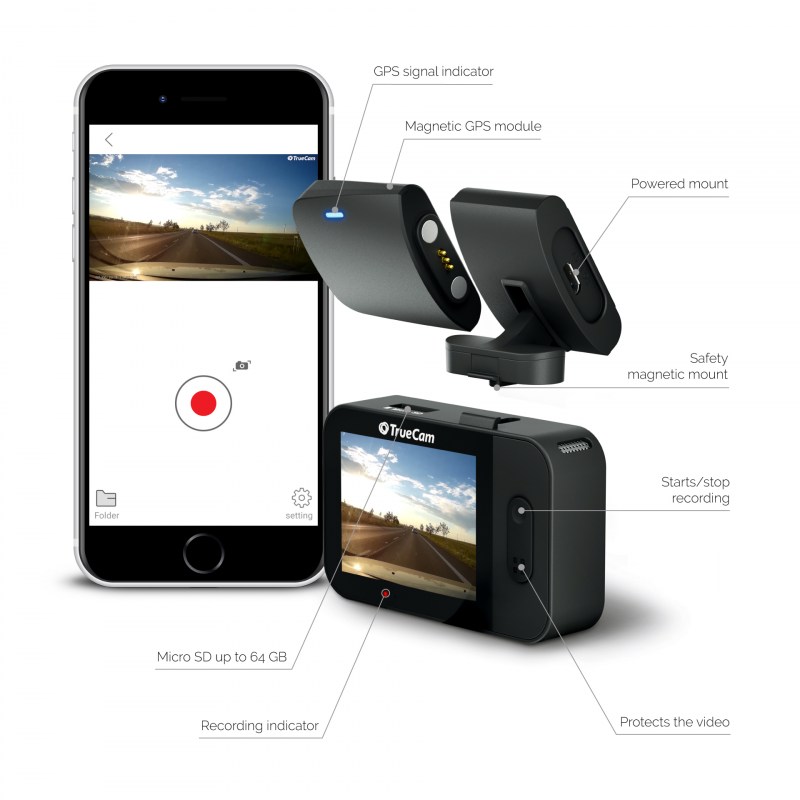 Perfect size on the windscreen
The TrueCam M5 GPS WiFi will never block your view but it still has a perfectly legible 2″ display with a wide viewing angle. This makes it easy to view the latest recording or adjust the settings. Thanks to its matte black colour, the camera is inconspicuous and barely noticeable to passers-by.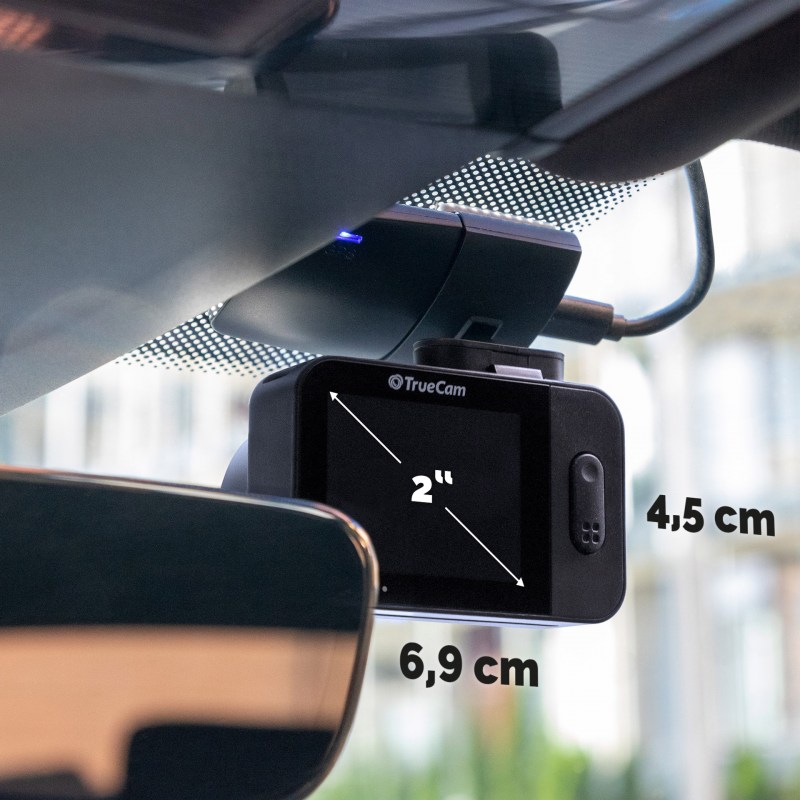 Much longer lifespan
Our car camera uses a supercapacitor instead of a traditional battery. It handles temperature changes much better, is more reliable, safer and lasts many times longer. To operate, it needs to be constantly powered but this is standard for dashcams.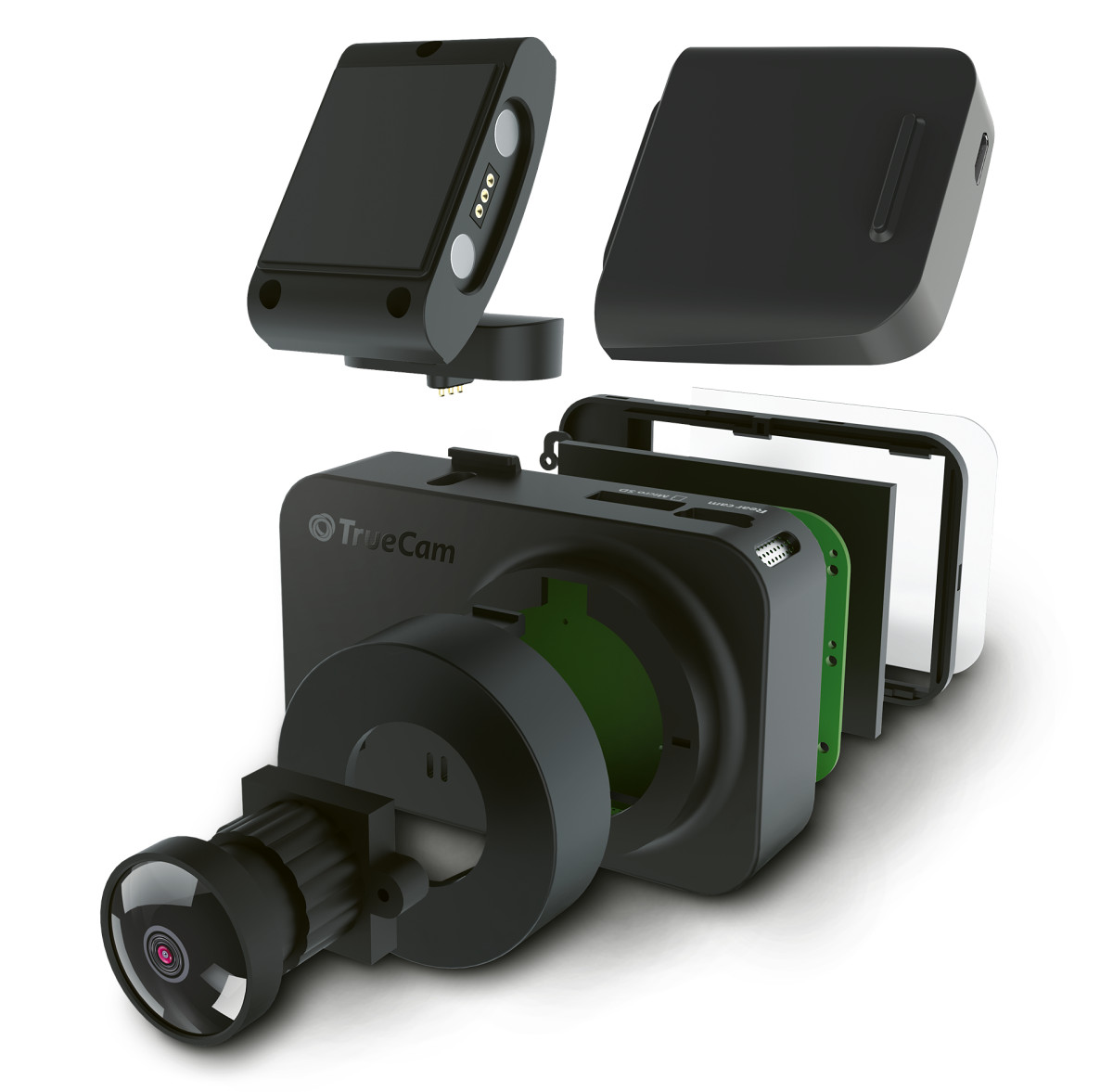 Pack contents
Truecam M7 WiFi GPS Dual Dashcam
Inside rear camera
Magnetic GPS module
Magnetic 3M holder
Adapter with 2x USB
Micro USB power cable
Rear camera connection cable
Micro SD/USB adapter
Replacement 3M adhesive pads (2pcs)
5st 3M cable clips
Protective cover
Tool for hiding cables
USB cable to update the GPS module
Dashcam
Video Resolution
1920×1080/30fps 16:9 1280×720/60fps 16:9 1280×720/30fps 16:9
Video Format
MP4
Photo Resolution
12 Mpx
Photo Format
JPG
Viewing Angle
150°
GPS
Yes
Memory (not included)
Micro SD, class 10, max 64GB
Connectivity
micro-USB, WiFi
Functions
Loop recording, Motion detection, Parking mode, G-sensor, Time stamp, GPS stamp, Speed stamp, Driver name in video, Screen saver, Kph or mph settings, Automatic summer time, File protection, Autostart, Night mode, PC application with location display, Sound recording with mute
Battery
Super kacapictor
Dimensions
69 x 45 x 34 mm
Other